Finally!…
A SOLUTION for our lowest income neighbors who are Seniors, or Disabled, our Veterans or their Widows!
Innovative concept……Heartfelt design…..Perfect response!
Senior adults in our community who are:
Living in borrowed space
Being used for stable income
Forced out by increasing rent
Living in constant fear
Extremely low income
Able to live independently
In housing crisis
Extremely affordable, ultra efficient, easily accessed, community based, pet friendly "carriage homes" that have been designed for independent living.
The program is sensitive to the desire for independence, the need to restore dignity and purpose, and the specific need for companionship of support animals.
CCM will create a supportive community environment in the form of a restorative housing program for senior members of our community with extremely low income.
Grace Place will restore dignity and purpose in the lives of individuals as they establish stability and reconnect with vital relationships that will allow them to engage in community life.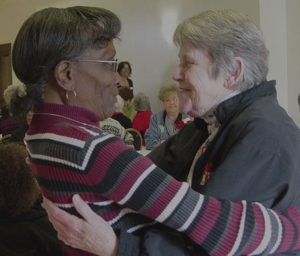 This asset based program will include comprehensive services to assist residents to regain stability in an environment built upon affirmation, accountability, and personal responsibility.
Multiple units are strategically positioned around a community center which provides access to prepared meals, laundry facilities, transportation services, counseling, activities, educational opportunities, and life skills training.
Qualified daytime and resident staff will coordinate partner agencies and volunteers, ensure onsite support and facilitate campus communication.
The community building will facilitate shared community responsibilities, activities, and access to resources.